Tree Pruning Services
Pruning may be the most common maintenance practice in tree care, but every cut made on a tree should be done for a reason, as each cut affects the tree's future growth and development. ATP's experienced arborists employ specialised training and equipment to determine how best to prune a tree, with a focus on ensuring safety and optimizing aesthetic considerations.
Rope Access Tree Climbing
Quite often, trees are not accessible by aerial platform to complete tree pruning. Instead we accomplish tree pruning by rope access tree climbing. This method allows us to reach branches anywhere in the tree canopy. ATP has an established reputation in Hong Kong for rope access pruning.
Palm Tree Pruning
Palm trees are especially difficult to climb and prune. ATP uses special techniques to accomplish pruning of palm trees.
Types of Tree Pruning
Proper pruning typically serves at least one the following functions:
Remove dead, diseased, weak, crowded or other hazardous branches or tree sections
Maintain or improve tree health or tree structure
Minimise risk of typhoon damage
Provide clearance for overhead lines or other structures
Guide growth patterns of young trees
Pruning for Typhoon Preparation
Research and statistics have proven that the best method of pruning for reducing tree failure potential during typhoons is reduction pruning. Reduction pruning helps reduce the height of trees which then reduces the potential of failure due to wind. This type of pruning is quite challenging to accomplish and requires careful planning and consideration. ATP specialises in this type of pruning.
Please visit our Typhoon Preparation page for more information and recommendations.
Quality and Safety Standards
ATP's certified arborists and tree workers adhere to ANSI A300 (Part 1) Pruning Standard and ANSI z133.1 Safety Standards, the guidelines recognised by the International Society of Arboriculture (ISA) and the Tree Care Industry Association (TCIA).
Examples of Tree Pruning, Before and After
Below are some real examples of ATP's tree pruning. We can achieve needed pruning meanwhile maintaining tree health and appearance.
Height Reduction Pruning – Before and After
Building Clearance Pruning – Before and After
Road Clearance Pruning – Before and After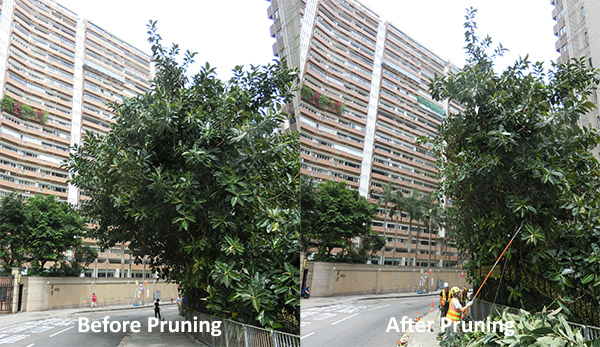 Building Clearance Pruning – Before and After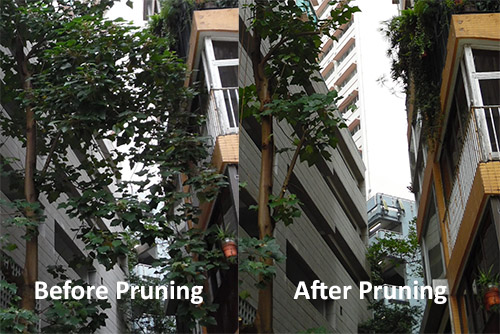 Height Reduction Pruning – Before and After