This insect is a caterpillar called Phauda flammans and is responsible for the complete defoliation of Ficus trees. Eggs are laid on leaves in the top of the trees and emerging larvae feed on foliage. After larvae mature, they climb down the tree and cocoon in the soil or in cracks near the base of the tree. Defoliation can cause serious, and possibly fatal, damage to trees if it happens too many times.
Annual Cycles
Annual cycles are directly related to the weather conditions.
1st Cycle – At the beginning of spring, March or April, the 1st season adults emerge from hibernation and begin to reproduce. Eggs are laid through late April and larvae begin to feed between April and May.
2nd Cycle – 2nd cycle adult moths are active in late May to early June and the 2nd season larvae feed between June to July.
3rd Cycle – 3rd cycle adult moths are active in August to early September and the 3rd season larvae feed between September to October.
A 4th cycle is possible if the weather conditions in November are suitable for insect activity.
Once the cold season begins, mature larvae cocoon and remain dormant until the temperature increases in the spring.
Currently Affected Areas in Hong Kong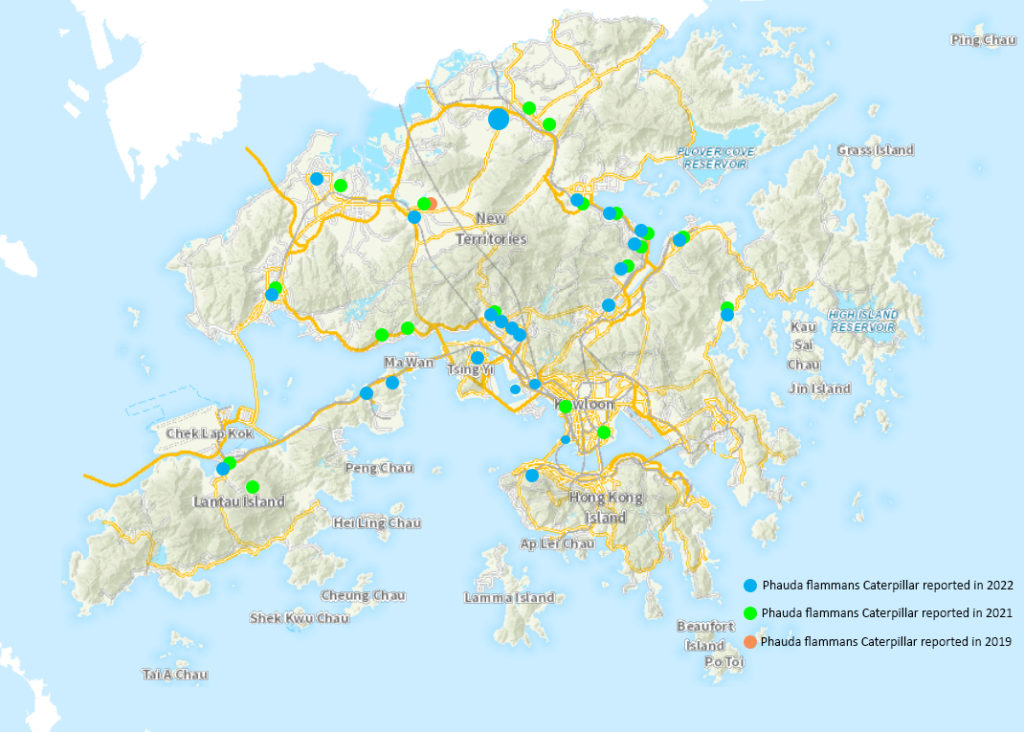 UPDATE 2022-09-03: Caterpillar is currently active in Tin Shui Wai, Lantau Link Toll Plaza, Sunny Bay, Tung Chung.
UPDATE 2022-08-31: Adult moth identified at Pai Tau Street in Sha Tin. Since adult moths live for around 5 days and lay their eggs during that time and eggs take 14 days to hatch the larvae, in approximately 3 weeks, the larvae will start feeding on Ficus leaves. Treatment by soil injection or trunk injection is recommended within the next 3 weeks from August 31.
UPDATE 2022-08-30: Caterpillar is currently active in Ma On Shan, Western Harbour Crossing
UPDATE 2022-08-27: Adult moth identified in Pat Heung, Kam Tin.
UPDATE 2022-08-20: Caterpillar is currently active in Sha Tin, Tsing Yi, Kwai Chung Container Terminal
UPDATE 2022-07-15: The Phauda flammans adult moth was identified at Hong Kong University (HKU) on Hong Kong Island. This means that the insect population on HKI may start to increase very soon.
UPDATE 2022-06-25: This caterpillar is found in Sai Kung.
UPDATE 2022-05-31: This caterpillar is currently active in Tuen Mun, Kam Sheung Road Station, Tsuen Wan, Tai Wo Hau, Kwai Hing, Kwai Fong, Tolo Highway, Science Park, Chinese University and Fo Tan.
UPDATE 2021-08-07: Ficus trees located in Tsuen Wan have been infested with this caterpillar.
UPDATE 2021-08-05: Ficus trees located in The Chinese University of Hong Kong and Fo Tan have been infested with this caterpillar.
UPDATE 2021-07-29: Ficus trees located in Ma On Shan have been infested with this caterpillar.
UPDATE 2021-07-14: Ficus trees located in Sham Tseng, Tsing Lung Tau and Olympic have been infested with this caterpillar.
UPDATE 2021-06: This caterpillar is currently active in Yuen Long, Kam Tin, Sheung Shui, Fanling, Tuen Mun, Taipo, Tung Chung, Lantau and Hung Hom districts.
If you have Ficus trees on your property and you are located in or close to these districts, we urge you to take caution and get familiar with this problem.
We expect that in the coming year and future years, this problem will continue moving South throughout Hong Kong unless it can be stopped. Thankfully, we have a treatment strategy that works.
Trees at Risk
Banyan trees such as Ficus microcarpa and Ficus benjamina are targeted by this caterpillar. In addition, other Ficus species targeted by this caterpillar include Ficus virens, Ficus hispida, Ficus rumphii, and Ficus altissima.
This insect prefers Ficus benjamina first. If you have this species on your property, it can serve as an indicator of the severity of the insect problem. It is common for Ficus benjamina to defoliate 100% before other Ficus species are attacked by this insect.
It is recommended to always treat ANY Ficus trees on your property. If your neighbor property also has Ficus, we encourage you to notify them of this problem as well.
Impact on Tree Health
Ficus trees don't generally lose their leaves each year. When this caterpillar suddenly attacks and defoliates the Ficus tree, this can greatly impact the tree's energy production due to leaf loss as well as its energy reserves as it must regrow its leaves. When this occurs 2 or 3 times in a year and possibly over consecutive years, this can substantially impact a tree's health. The reduction of energy increases with each insect attack.
When a tree's energy reserves are reduced and energy spending requirements are increased, this means that other important things such as a tree's immune system, root production, and wood density are also reduced. This can lead to many other future problems. In addition, this can open up the tree to attack by secondary insects as well as disease. This has been proven by a recent Harvard study completed in 2021.
Signs of Damage
Either fully or partially chewed leaves. During the first active cycle within a tree, caterpillar population may be less and result in perhaps 10-20% leaf loss in the top of the tree. During each following active cycle, the population of caterpillars will increase exponentially because, according to published research, each female moth can lay approximately 100 eggs.
Once the population has increased, Ficus trees may defoliate anywhere from 30-100%. Once the population has outgrown the available trees, the adult moths will spread further to new trees and continue feeding.
Identification
Larvae – Brown and green in color and can be found all around the tree trunk. If they are identified climbing down the tree, this means they have already completed eating the leaves and are looking for places to hide. They may hide in the soil or in the tree in cavities, cracks, or other dark places.
Adult – Moths have wings and are red and black in color. If you see these adult moths, call us immediately to arrange treatment. Timing of treatment is critical for successfully protecting trees.
Treatment Strategy
When adult moths are identified near the tree, this is the time to arrange treatment. Timing is CRITICAL to be successful.
Treatment should be done within 21 days (3 weeks) from the time adult moths are identified near the tree. Soon after mating, they will lay eggs on as many of the tree's leaves as possible and as high up as possible. Eggs take approximately 14 days to hatch and the larvae will immediately begin feeding on the leaves. This is the time that the insecticide must be active within the tree to effectively stop the larvae from feeding.
Soil Injection Treatment
Our treatment is done by soil injection around the base of each tree. We use a very specific timing, mixture, and dosage for each tree. The tree then takes up the insecticide from soil by the roots and up to the leaves. Once the insecticide is in the leaves, it will protect the tree for approximately 30 days.
Trunk Injection Treatment
For trees such as wall trees or other types of trees where the soil is not accessible, we can also inject the insecticide directly into the tree trunk. The insecticide is taken up into the tree and to the leaves.
UPDATE: Our trunk injection treatment has now protected trees for more than 1 year! We now guarantee that our treatment will remain effective for 1 year from the date of treatment.
Treatment Expectations
When timed correctly, our treatment gives 95% to 100% protection for the tree.
Below is an example from May, 2021.
Successful Treatment in May 2021
The below tree was successfully treated in April 2021 and this photo was taken on May 26, 2021. The tree was completely protected from the caterpillar infestation.
Location: Pat Heung, Kam Tin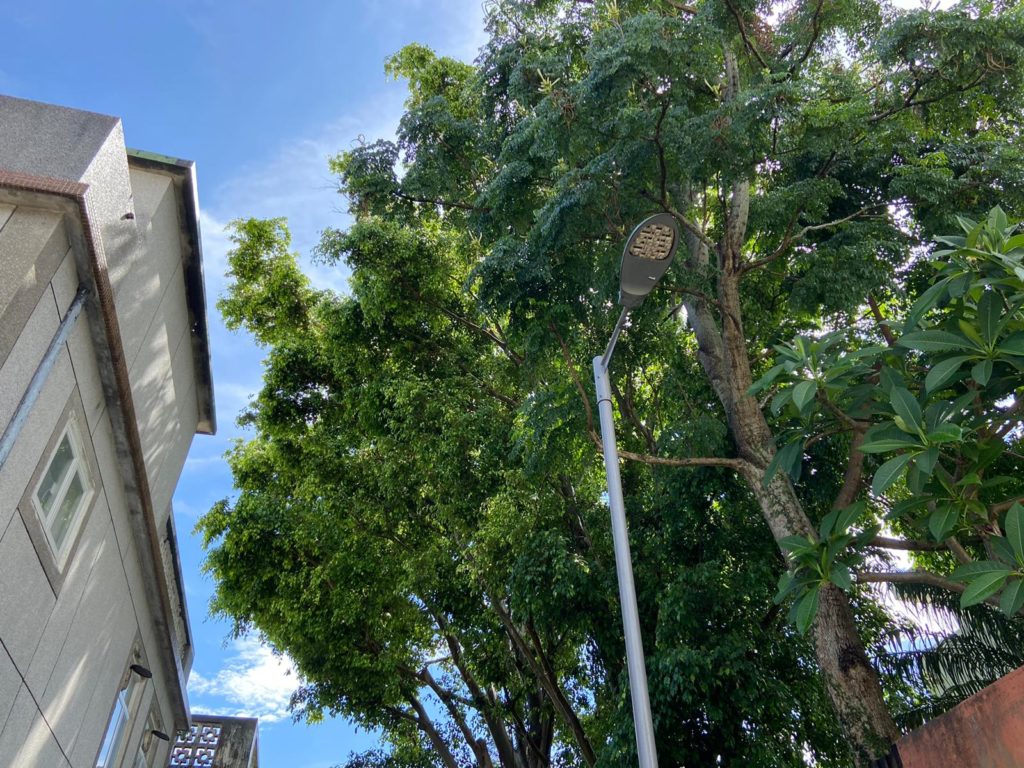 Example Unprotected Tree (No Treatment)
The below tree was not treated and this photo was taken on May 26, 2021. The tree lost all of its foliage due to the caterpillar infestation. This tree is located just 20 meters away from the treated tree.
Location: Pat Heung, Kam Tin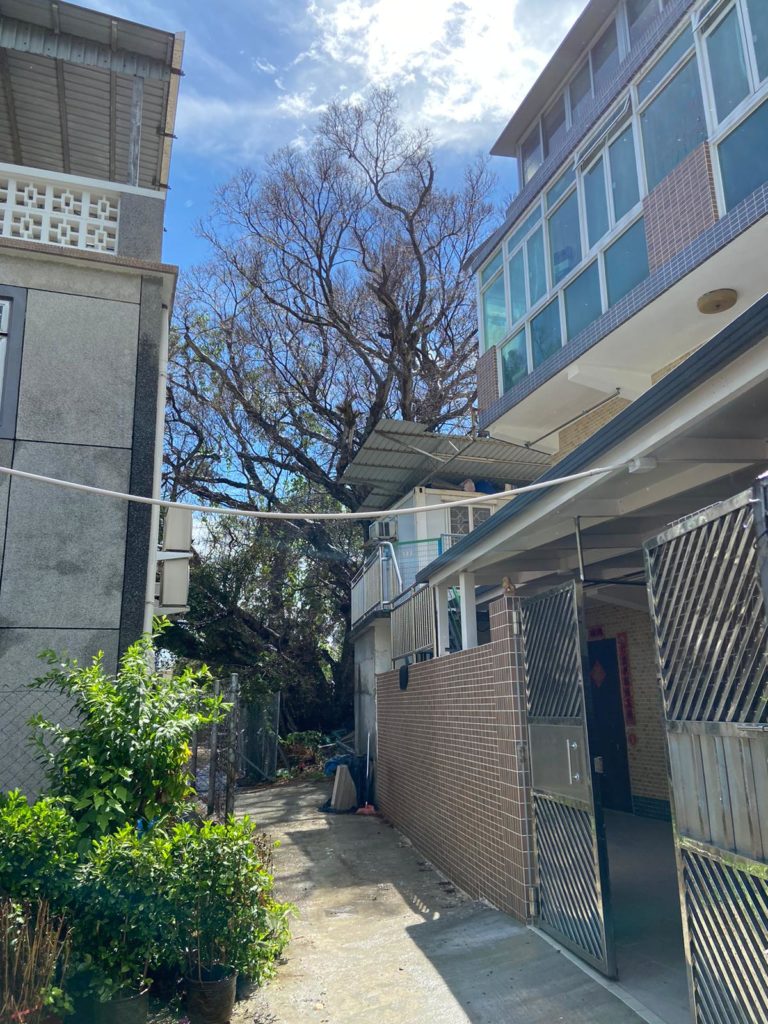 UPDATE on 2021-08-04
ATP re-visit the same location again. From below video, you can see the trees were completely protected by the treatments from March 2021 to August 2021 through two cycles of the Phauda flammans active period.
Contact Us
Do you suspect this insect may be attacking your trees? Contact us and tell us about the issue and we'll do our best to help. [email protected]